Context Labs and Spherical | Analytics CEO, Dan Harple, recently presented an expo-floor keynote speech at the annual O'Reilly STRATA Data Conference in New York City. Dan's keynote shared our team's experiences to the assembled crowd in learning how and why we should build trust into distributed big data, small data and IoT-enabled systems.
Current digital systems do not offer the level of trust needed to enable substantial performance gains in complex supply chains or other multi-stakeholder environments. Too much of the data remains inaccessible in siloed clouds where all trusted entities in these ecosystems are unable to truly collaborate towards innovation. With standards only for policy, but not for technical implementation or practical application, a distinct lack of trust exists within most decentralized systems.
The keynote posited trusted decentralization, through context and interconnected relationships, as the next frontier in the future of technology and digital systems. "Digital trust requires tracking the digital thread from inception to the end of life (EOL)," Dan stated. "One must trust, but verify. Distributed ledger technology and blockchain technology are well-suited for this purpose."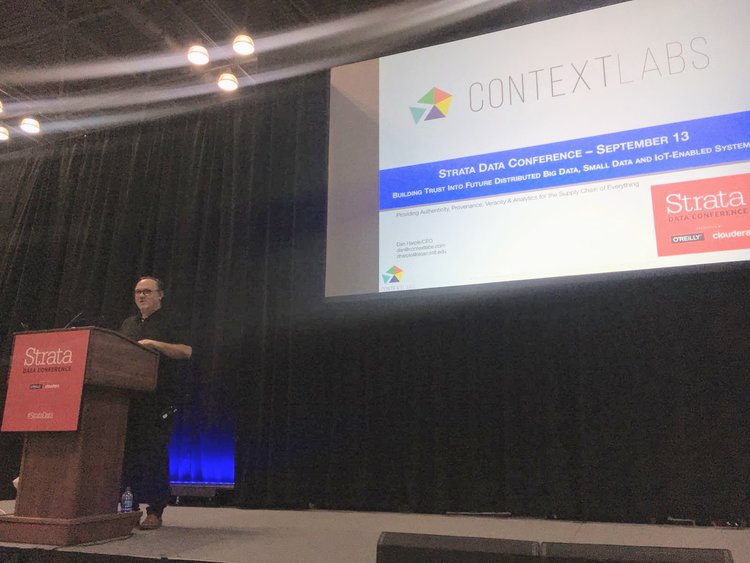 Minimum Viable Interoperability (MVI), a concept introduced by Context Labs Dan Harple as part of the Open Music Initiative (OMI), inherently implies decentralization and serves as a model for how ecosystems can collaborate with trust embedded in their distributed architectures. One example profiled how the OMI and Context Labs' newest collaborative ecosystem, the Mobility Open Blockchain Initiative (MOBI – MOBI press release), operates on MVI principles at the forefront of their activities in defining, designing, developing and deploying future systems.
To learn more about Context Labs, our technology offerings or our upcoming news, visit us at info@contextlabs.com or on Twitter @contextlabsbv.