Spherical Analytics (SA) is working with the National Institute of Standards and Technology's (NIST's) National Cybersecurity Center of Excellence (NCCoE) in their Securing the Industrial Internet of Things (IIoT) project to develop practical, interoperable cybersecurity approaches that address real-world needs of distributed energy resource (DER) environments. By accelerating dissemination and use of these integrated tools and technologies for protecting IIoT in and among DERs, the NCCoE will enhance trust in U.S. information technology (IT) and operational technology (OT) communications, data, and storage systems; reduce risk for companies and individuals using IT/OT systems; and encourage development of innovative, job-creating cybersecurity products and services. NIST does not evaluate commercial products under this consortium and does not endorse any product or service used. Additional information on this consortium can be found at https://www.nccoe.nist.gov/iiot.
SA contributed the Immutably™ platform to build the command register. The command register is a new concept featured in the draft of the practice guide. It captures the sequence of events related to DER management across all DERs connected to, monitored, and controlled by a distribution control system. Its purpose is to provide an immutable record of transactions/communications among a distribution control system and the control systems managing the DER, verify the integrity of information exchanges, and provide a comprehensive audit trail of information exchanges.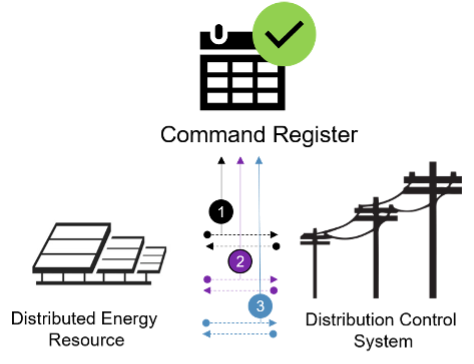 Below Are Some Key Web Links to the Practice Guide and the Project Fact Sheet.
About the National Cybersecurity Center of Excellence
As part of NIST, the NCCoE is a collaborative hub where industry organizations, government agencies, and academic institutions work together to address businesses' most pressing cybersecurity issues. This public-private partnership enables collaboration in the creation of practical cybersecurity solutions for specific industries, as well as for broad, cross-sector technology challenges. Through consortia under CRADAs, including technology partners, from Fortune 50 market leaders to smaller companies specializing in information technology and operational technology security, the NCCoE applies standards and best practices to develop modular, and easily adaptable example cybersecurity solutions by using commercially available technologies. The NCCoE documents these example solutions in the NIST Special Publication 1800 series, which maps capabilities to the NIST Cybersecurity Framework and details the steps needed for another entity to re-create the example solution. The NCCoE was established in 2012 by NIST in partnership with the State of Maryland and Montgomery County, Maryland. Information is available at https://www.nccoe.nist.gov.